When you take your passion seriously, no matter what you think, you just try to make your existence online. To share your ideas, you need a website. To make a website of your choice, you need a good domain name, which gives your business a name. Everyone wants a good balance between price and quality. Whether, you plan to buy a pen or even a car. When we think to buy cheap domain names, there're a few market places available who provide all Top level domains at low costs.
Disclosure: This post contains my affiliate links. Hey, hold on! It doesn't affect my recommendations. 🙂
Well, "Cheap" word looks quite catchy and it always grabs our attention. Why not?
Whenever, we try to stick with a new service, price always comes as our primary consideration. Same thing happens when we choose a domain name or web hosting. I've already discussed about best web hosting providers, you should read that too.
However, If you've selected a good web host to host your website. Of course, you get a domain name along with your web hosting plan. But, I always recommend people to keep their domain and host separate. As I've done the same with Techoize.com. I bought this domain from GoDaddy and hosting from HostGator. It makes my website more independent.
Points to Consider Before Buying a Domain Name:
So, without wasting your time, here I'm talking about 3 best domain name registrars, where you can actually buy cheap domain names.
Places where you can buy cheap Domain names:
These domain name registrars are actually good in terms of support & reliability. Some of them are offering cheap .com and country specific domains. While, some of them offering .net and .xyz domains at very cheap price.
Namecheap: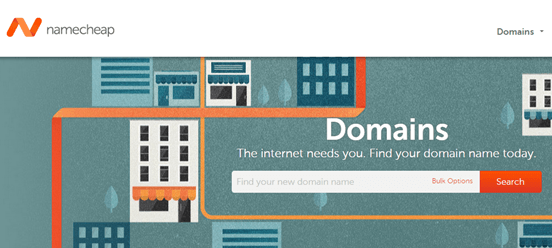 Namecheap is an ICANN-Accredited domain registrar and web hosting company. It was founded in 2000. Though, their .COMs price is not that cheap when compared to other registrars. But, It is offering .xyz domains at very cheap price. There is a very huge network of DNS servers which means you'll get reliable DNS service. You'll get free email & URL forwarding and free 1st year WhoisGuard Privacy Protection with your domain.
Price:
With Namecheap you can domains as low as $3.95/year. The Cheapest domain type at Namecheap is you can grab .xyz domain at only $1.00+ Whois Protection free for the first year. (Limited time offer)
BigRock: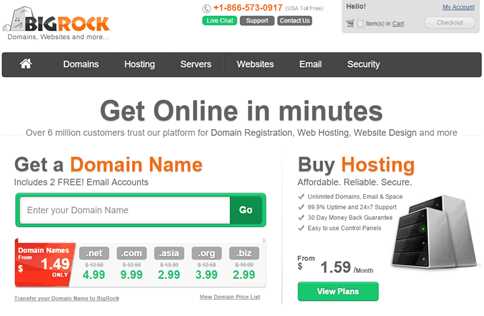 BigRock is another leading domain name provider. It is a part of Directi group of businesses which was founded in 1998. BigRock in powering over 6 millions domains now-a-days. Providing a large variety of domain names extensions.
Here is the list of what you'll get free along with your domain:
Free Email Accounts & Multiple Mail Forwarding.
Domain Theft Protection.
Easy DNS record Management.
Dedicated 24⁄7 Support.
Price:
They're offering domains as low as $1.49 only. You'll get .com at just $9.99/year. Their renewal price is around $12/year.
GoDaddy: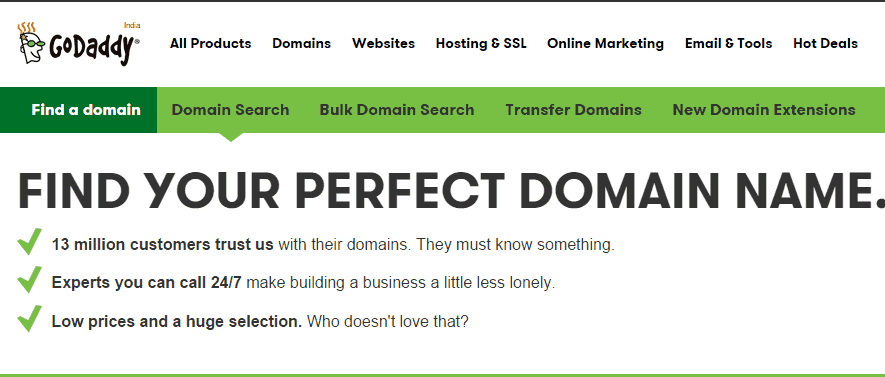 When it comes to domain registration, the first company you hear about is GoDaddy. Of course, their cheap plans (both domain registration & web hosting) are the reason for their popularity. They're not only popular for their cheap plans, but they also provide variety of plans along with domain. GoDaddy has registered over 13 millions domains so far.
More GoDaddy Features:
Wide Selection of Domains.
Easy Domain Forwarding.
Free Email Account.
24⁄7 Customer Support.
Just one thing you should note that, you'll have to buy (Whois) privacy protection separately. But, it is not much of concern, privacy protection is quite cheap at GoDaddy.
Price:
You'll get .com domain at just $0.99 for the first year (if you use my affiliate link). While additional years .COMs may be purchased for $ 9.99 per year.
Conclusion:
You can refer to any of these websites to grab your domain. One more thing, I'd suggest you to do some research about whatever domain name you're going to buy. Before buying, do check its renewal cost. Be sure about what you're buying .com, .org, .net etc., it must be according to your business/blog type.
More Recommended Reads For You:
Cheap, Reliable & Best Web Hosting Providers of 2016
So, it was all about buying cheap domain names. Do you want to suggest more? Post in comments section.
---
See also