Looking for 'Biggest' web hosting discount of the year? Bluehost Cyber Monday sale is here.
Bluehost is certainly one of the best web hosting companies around. If you're looking to launch your website and that too with Bluehost, then you should miss a single chance. Black Friday/Cyber Monday sale is the high time where you can get Bluehost web hosting for as low as $2.65/month.
Black Friday and Cyber Monday sale is the time when Bluehost offers highest discount on all hosting plans. This is the reason people tend to buy web hosting on Bluehost Cyber Monday sale.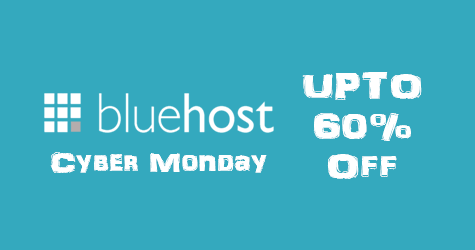 This year Bluehost is offering over 60% discount on all web hosting plans. Their regular shared web hosting price is $7.99/month, but after applying 60% discount you'll get web hosting for $2.65/month.  There's 30 days money back guarantee, if you don't find them effective.
Details of Bluehost Cyber Monday Sale 2016:
This deal is live now! Yes! You heard it right.
From Black Friday (25th November 2016) to Cyber Monday (28th November 2016), you'll be able to avail this much discount. Which is highest ever discount given by Bluehost.
This discount is applicable on the following 3 web hosting plans:
Recommended for beginners. You can host one website with unlimited disk space and bandwidth.
Deal Price: $7.99 $2.65/month
Bluehost Plus plan:
Bluehost plus is most popular plan they offer. You can host unlimited websites with this plan. Also, you can have unlimited email accounts as well.
Deal Price: $10.99 $3.65/month
Bluehost Prime plan:
There's no big difference between Plus and prime plans. It not only provides everything unlimited, but also free domain privacy and site back up features.
Deal Price: $14.99 $4.65/month
How to avail maximum discount on Bluehost Cyber Monday Sale?
Visit Bluehost homepage when the sale starts.
Click on green 'Get Started Now' button and it'll redirect you to the page where you can select your plan.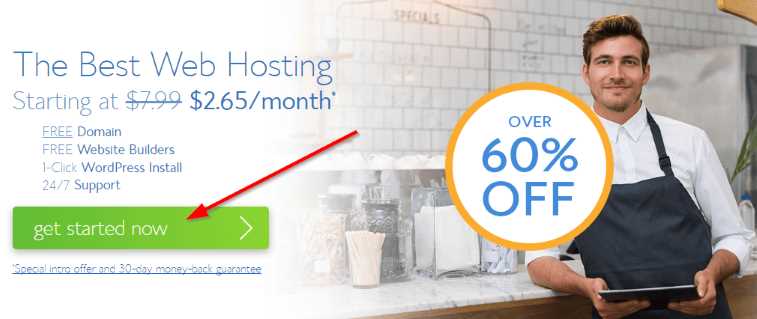 Now, you'll see 3 plans as I told above. Select the plan according to your requirement. (I'll suggest you to go with Bluehost Basic plan, if you're new to blogging world. Otherwise, most popular is 'Plus', which is only $1.65/month more from the Basic plan.)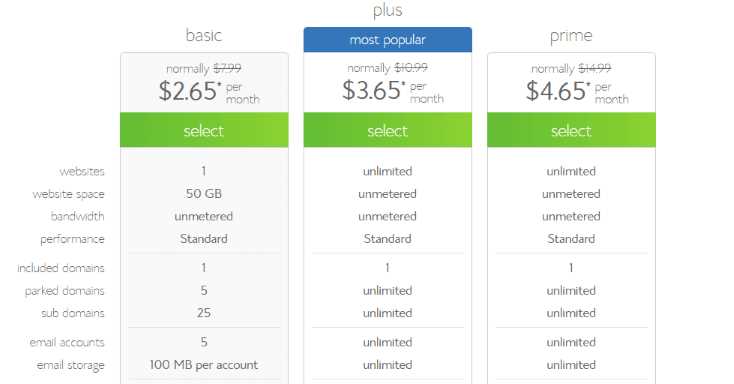 Select your Free domain or if you already own any, just type its name.

On the account information page; fill out your details, select your package, plan duration and payment information. (I'll suggest you to go for the 36 month plan as, the higher you'll choose the more discount you'll get.)
Finally, click on Submit button to complete your registration.
Final words on… why you should choose Bluehost?
After every web hosting recommendation you get, it's your choice to either go for it or not. Bluehost is always recommended by others, because of their excellent support and powerful server performance. I myself hosted one of my websites with them and I'm highly satisfied with the service I';m getting.
If you host your website with them, you'll get Unlimited webspace, Bandwidth, Email accounts and their enhanced cPanel. Also, you'll get one free domain and 24/7 customer support as well.
So, without wasting your time, you should go for it. It is a very limited time deal.
If you've any queries related to Bluehost or this deal, you can drop a comment here. Also, let me know in the comments, if the deal helped you.
---
See also