I usually write about internet & blogging tips. But, today I'll be sharing my earning experience from one of the best PTC site. It's called ClixSense. I've already shared an article on "how to make money online with PTC sites".  But now, I think I should share my experience with you guys. It'll help you to earn enough amount from home without investing a single penny. This is my A to Z ClixSense guide.
Ok, wait. Whatever you call it "ClixSense guide" or "ClixSense case study" or "my PTC review", it's up to you.
How I Started?
Before starting my blogging career, I was spending my time searching different methods to make money online from home. Like everyone else, when you do some research, you get to know that making money online (even without investment) is not that easy task as it seems. Same thing happened to me.
Yeah, I was wrong.
Well, everything needs some efforts to put. But, it's not that tough to make money online if you do some proper research. I came to know about most reliable PTC sites, where we actually get paid.
So, on 22nd July 2014, I created my account on ClixSense.
About PTC Sites & How to Join Them?
As I've already posted a short guide on How to money from ClixSense, so I'll not go any further into it.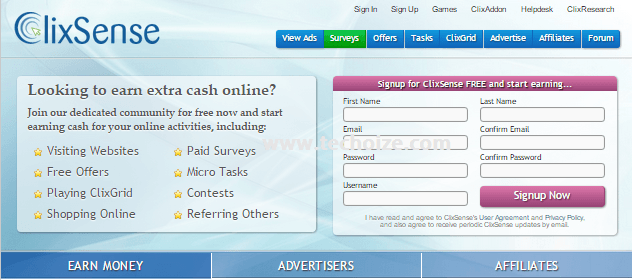 In short, A PTC (Paid to Click) site pays you for clicking on advertisements, for completing paid Surverys, tasks and a lot more. They're not only just PTC sites but, they're more like Get-Paid-To and Paid-Per-Task websites. That's surely a plus point for us. You can simply work from home while sitting on your computer. It doesn't take more than 15 minutes to view PTC ads.
Top PTC Sites (Must Read):
In my opinion, ClixSense & NeoBux are the most reliable & real paying PTC sites. I earned over $161 from ClixSense & $126 from NeoBux. But, I'd recommend you to join ClixSense first.
I'm saying this because NeoBux permanently suspended my account due to my inactivity. I was inactive for more than 60 days. As, I had already changed my field and started blogging career. ClixSense at least gives 90 days, which seems quite enough time. This is why I like it most.
Points To Consider Before Joining ClixSense:
You must have a valid PayPal, Payza, Skrill or Payoneer account (As PayPal is no longer available at ClixSense). Now, I use Payza and Payoneer to withdraw my earnings from ClixSense.
You can't make more than one account from same computer.
You can't use Proxies.
You should not share same computer with other ClixSense members.
To Join ClixSense:
I joined as a Standard member, as everyone who's beginner joins as a standard member. Standard membership is FREE while, premium membership costs around $17 per year. You can upgrade to premium whenever you want. Your earnings will be doubled. But, for now, join their Standard Membership:
How I made over $150 from ClixSense:
Here's the screenshot of my Account details and total earnings on ClixSense: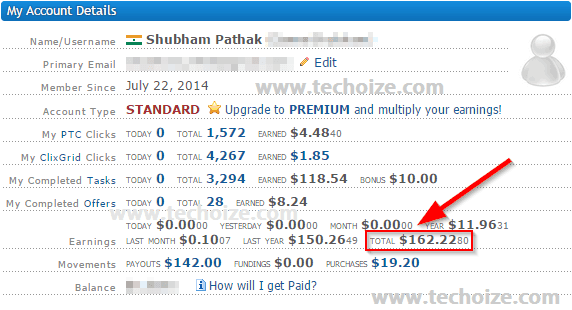 From starting, I was so much involved in all these activities, that I've mentioned below:
Clicking on Ads:
This is the first thing everyone does on a PTC site. Click on daily ads they're as low as $0.001 and as high as $0.01. You'll get almost 20 to 25 ads on daily basis. Seems quite low! hmm. Read further, even I didn't become dependent on ads only. But, be sure to click at least 6 ads to complete daily checklist. I earned total $4.48 with PTC ads.
Pro-Tip: "Don't ignore daily ads, even if you earn small amount."
Daily Checklist:
The most important thing to increase earnings at ClixSense. It's somewhat like getting bonus of whatever you earn in a single day. You'll find a checklist box on the right side of your dashboard. You'll get 7% extra bonus of whatever you earn in a single day. Means if you earn total $15 in a day, you get $1 as a bonus.
Pro-Tip: "Make sure to complete the checklist daily."
ClixGrid Game: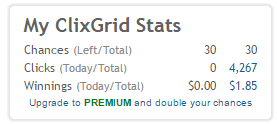 You read that right. It's like a grid game, where you get 30 chances to click on any grid you like. You can win up to $10 in a single grid and/or win many times. If you're lucky enough. I didn't earned that much on ClixGrid (my hard-luck), it was around $1.85.
Pro-Tip: "Don't make patterns, always click on random grids chances of winning is high."
Offers & Surveys:
Offers contain many easy things like surveys, Apps downloading, membership offers etc. Some of them are premium offers also. I was rarely involved in completing offers. But, still I managed to make around $8.25 from offers and surveys.
As surveys are based on geographical areas and they can kick you out if you don't meet their criteria.
Pro-Tips:
Try to be "honest" while filling out surveys.
Try to judge the criteria & topic of the survey.
Surveys related to gadgets & electronics are much easier. Don't miss them.
Referral Programs:
When you refer someone from your affiliate ID you get commission amount per SignUp & whatever they earn further. I earned around $3.04 from referrals.
Pro-Tip: "Share your referral link on forum, social networks, post YouTube videos to get more referrals." (But, Don't spam).
Crowdflower Tasks: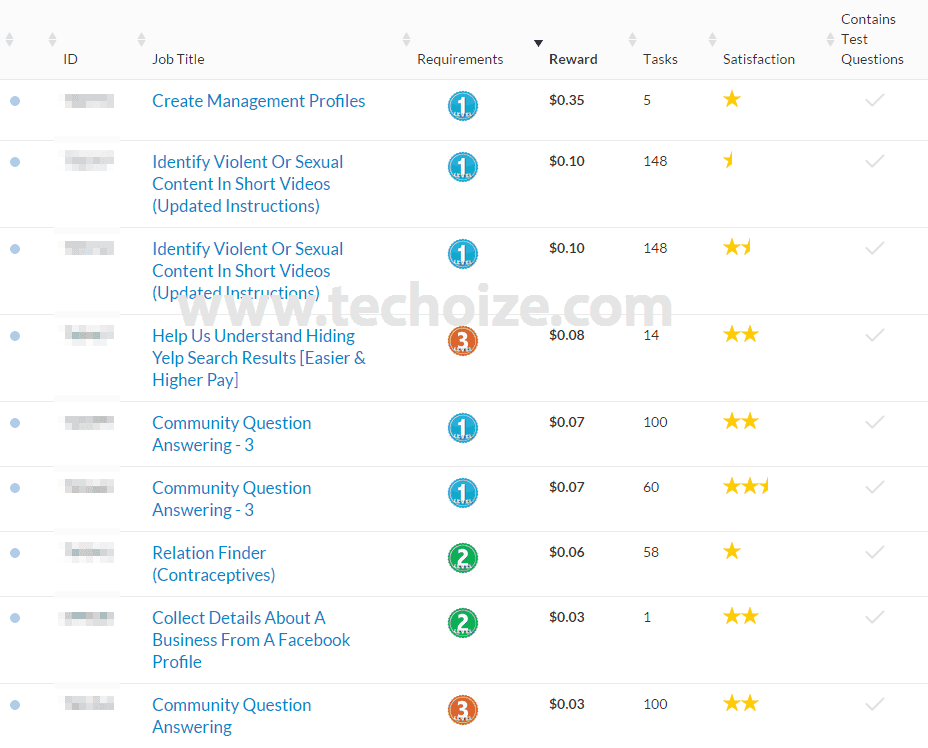 The major reason for writing this article. I earned 90% of the total amount from tasks. Yeah! It's a big contribution. As, I believe in hard work, rather than luck.
ClixSense is a CrowdFlower affiliated PTC site.
Now, you've been thinking that, "what is CrowdFlower?"
Well, CrowdFlower is a California based crowd sourcing company, which was founded in 2007. It has a community of contributors who complete the simple online tasks and earn some fixed amount per task. Based on different Job IDs. Amount varies from $0.01 per task to $30 per task.
As soon as you start tasking on CrowdFlower from ClixSense platform. It sends your earnings from to your ClixSense account. Where you can easily cash-out your earnings.
CrowdFlower needs a separate account, which'll contain your CrowdFlower ID. You'll see tasks from levels 0 to 3. As soon as you reach to level 1, you'll have access to all the tasks.
I started from level 0 (zero) and reached to level 3 within 20 days of joining ClixSense.
Then, after that I never looked back, I was doing almost 400 tasks in a single day.
$100 Weekly Contest & Other Bonuses: One more advantage of tasking. You automatically enter into a weekly contest. Top-10 most workers earn a total of $100 in bonuses. Another advantage is whenever, you earn $50 in tasks you earn extra $5 in bonus.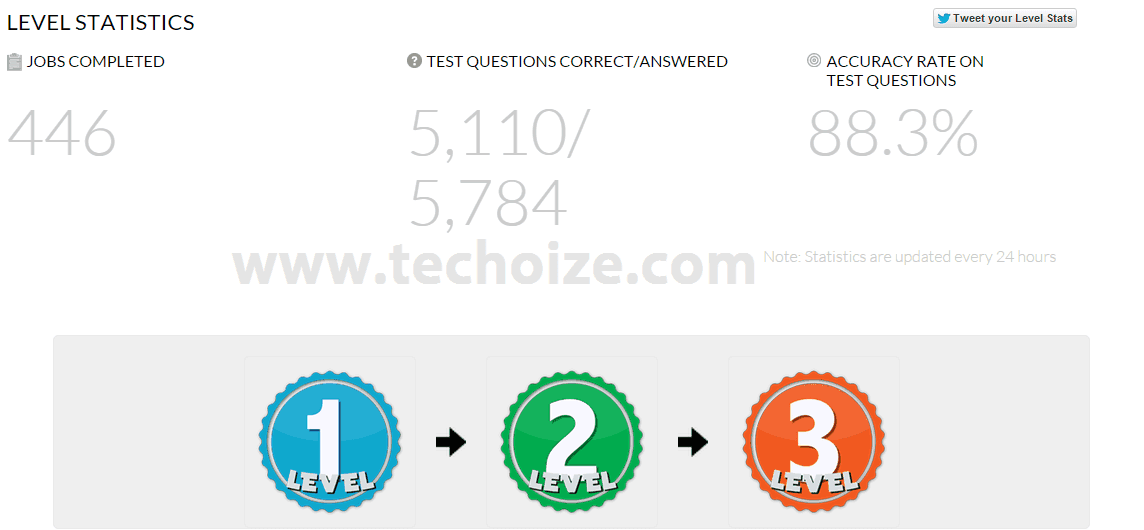 Pro-Tips:
Always try to maintain your accuracy. Mine was 89-90%.
Tasks contain two modes, i.e. quiz mode and work mode. In quiz mode, answers must be correct, otherwise you'll get expelled from that particular task.
Don't cheat while tasking. Otherwise publisher can flag you. When you get flagged you lose all your level badges.
Try to complete one task in less than a minute. In case, if it doesn't contain any calculations.
Here's a screenshot of how much I earned from tasking:

Total amount that I've earned So far:
By Clicking on PTC Ads: $4.48
Daily Checklist Bonus: $16.07
ClixGrid: $1.85
Offers & Surveys: $8.24
Referral Program: $3.04
CrowdFlower Tasks: $118.54
Other Bonuses: $10
Here's the proof of my earnings from the span of 22 July 2014 to 22 October 2014:

Final Words…
I've covered everything about my experience with top PTC site like ClixSense and a "How to" ClixSense guide. It's up to you, how you increase your earnings. There're more people on ClixSense earning around $500-$1000 per month. I've just earned 10% of their monthly earnings, and sharing my experience.
So, this is how I made more than $100 in less than a month and Total $250+ from more than one PTC site.
Well, I've covered everything from my PTC experience to my full "ClixSense guide". If you found my post helpful, then please drop a comment. If you've any questions you can let me know in comments.
Like us on Facebook for More guides- https://www.facebook.com/Techoize
---
See also